Welcome to Fire Engineering Associates; Leaders in Smoke Control Solutions
Fire Engineering Associates is a UK leader in the highly specialised field of smoke control solutions – from basic packages to the most complex, fully integrated smoke control systems. Within their first decade they set the standard for smoke control solutions – in both pace and technology – for local authorities, architects, developers and building contractors.
Their unrivalled turnkey service begins with a feasibility survey and conceptualisation. It continues through the design, manufacture, project management, installation and final certification of the most technically advanced smoke control solutions. And it goes beyond – to a level of ongoing aftercare, system support and maintenance, along with consultancy presentations, seminars and training courses that have made FEA the benchmark in its field.
FEA has the experience and expertise to provide an effective guide through the maze of building and safety regulations, legal requirements and British standards … to implement smoke control solutions that fully satisfy not only their own high standards but the minefield of stringent legal requirements and regulations that face property designers, developers and owners alike.
Over recent years the risk of litigation has presented an ever-increasing burden of smoke control responsibility. It's a responsibility that FEA understands – as part of a unique level of excellence in fan engineering and unbeatable combination of technology and talent.
Because … that's what you expect from a professional partner.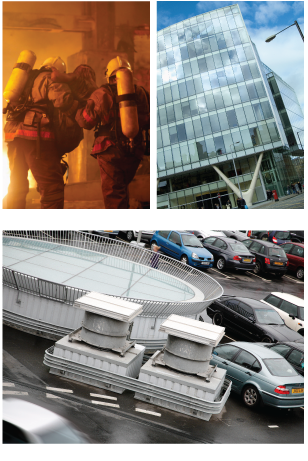 FIRE ENGINEERING ASSOCIATES LTD
Unit Nine, The Schoolhouse, Second Avenue, Trafford Park, Manchester M17 1DZ.
Tel : 0161 872 7760 / Fax: 0161 872 7740 / Email: [email protected]